So, there's this guy that you've been waiting to ask you out for the longest, and today he finally did! The only thing is he wants to go out tonight! You don't have time after work to run to the mall to pick up something to wear…besides, it's the first and rent is due. What do you do? Wear what you wore to work! Here's out to take a totally appropriate work outfit, switch it up and knock his socks off.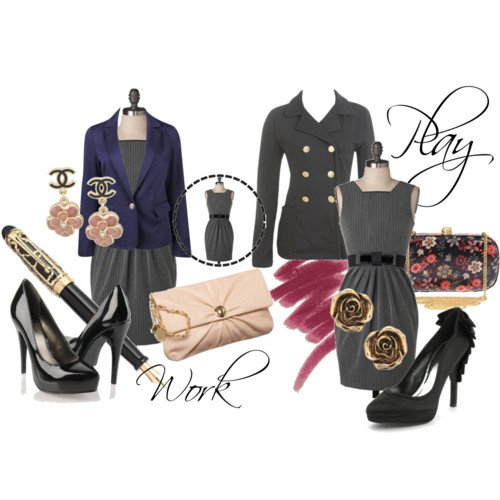 "Work: Michelle Dress, $60; Forever21 Chancellor Career Jacket, $25; Forever21 Patent Pump, $25; Chanel Camellia Earrings, www.bagborroworsteal.com; Melie Bianco Pleated Clutch, $46; Play: Michelle Dress, $60; Peacoat by WetSeal, $22; ASOS Clutch, $58; Karen Millen Ribbon Detailed Heeled Court, $204; ASOS Sm Rose Studs, $6.80"
Unfortunately whoever created the workplace "dress code" had no imagination. So the color palette in this outfit consists of mainly neutrals with just a splash of color. A safe color mind you. Don't go showing up to work in your hot pink sequined McQueen pumps! The dress is a basic figure flattering KNEE LENGTH grey dress. It's fashionable, yet still conservative. But since it's sleeveless you may want to consider wearing it with a blazer like the one I chose. I usually try to stick with studs at work, but these were just too cute to pass up on. They work because they're a decent size and the fact that they're a readily recognizable designer lessons the chances that someone will find them inappropriate for the work place.  For the shoes, I chose a basic patent pump. You want to be careful about the height of your heel. Too short says, "I'm unsure of myself" and too high says, "I'm a slut!"
Now, it's time to "play". First date outfits need to say, "sexy, but don't come at me sideways". I kept the same dress and paired it with a nice peacoat. Jackets always make for a dramatic entrance as you take it off to sit down for dinner. 

Simple studs and clutch just big enough to carry anything you might need. (I'm not judging…lol.) The gold accents on the clutch accentuate the gold buttons on the jacket and the earrings. Here is where you can be bolder with your choice in color. Go for it! Sorta. You probably want to stay away from anything even halfway neon. A bit tacky. Your shoes? The higher the better! Heels work wonders for your butt and let's face it, every man can appreciate good assets.