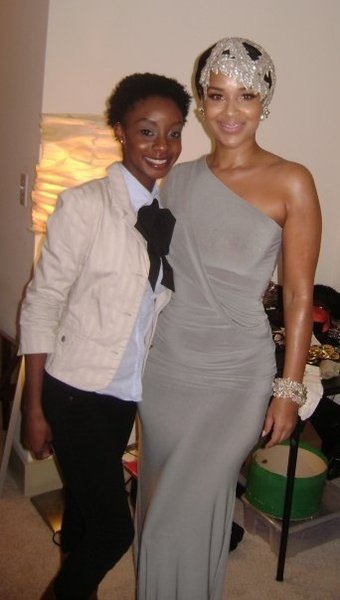 So I wanted to do a post that just kinda reflected some of my personal style. My personal style is kinda complicated…if I do say so myself. I have like a million rules that I try to abide by. I guess I'll share some of them with you.
1) Never TRY to be sexy. Sexy is a mentality, not a look.
– So needless to say, I despise everything about what I call the "video girl" look. The ridiculously long weave, nails & eyelashes, ghetto boots (yes…w/ the fur), and jewelry that jingles with every step. You are trying ENTIRELY too hard! I can't take it.
2) Clothing should have personality.
– Whenever I get dressed, I imagine that strangers passing me will say, "She looks like a cool person to get to know!" Because quite frankly, I am! Ok, ok…enough about how cool I am. Lol
3) Step outside the box.
– Now, I'm not as far left field as a person could be, but I hate looking like other people. People say imitation is the highest form of flattery, but I say…STOP JOCKING! lol. It's ok to have inspiration, but being a clone is never in season. Don't be afraid to re-purpose a piece. Use a necklace as a bracelet or a waist tie as a neck tie (as I have done in the above picture). I usually shop for vintage pieces at thrift stores and consignment shops. A quick visit to the tailor and you're in business! I live and die by Rag-O-Rama. You'd be surprised the things people give away because they lack vision. What's the saying, "An ounce of imagination is worth a pound of …"? Wait… I think that was actually about preventions and cures. Oh well. haha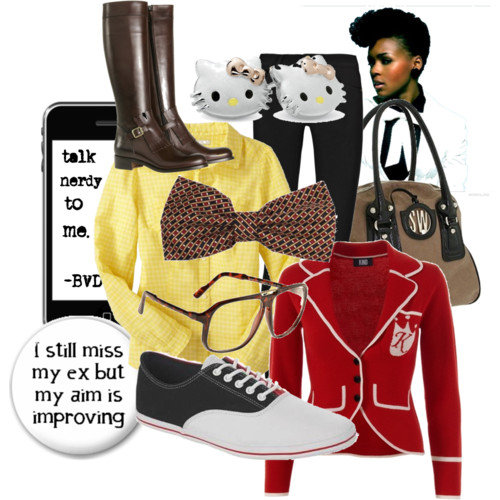 "Women's Sheer Roll Up Camp Shirt by OldNavy, $18; School Uniform Cardigan www.farfetch.com, $555; Marc by Marc Jacobs Roxie Knitted Jersey Pants, $230; Chicago Riding Boots www.mytheresa.com, $1284; Bowling Style Shoe, $25; Zipbowler Bag by Stuart Wietzman, $950; Black Burgandy Bow Tie by Swagger & Swoon, $22; Hello Kitty Stud Earrings www.zales.com, $195; Mod Genius Glasses www.modcloth.com, $12; Pin Button Badge www.bigcheesebadge.com, $1.64"
I love taking traditionally masculine pieces and putting a feminine twist on them. Instead of a standard size bow tie, consider an oversized one. It's dramatic and makes a statement. I know I've said this before, but it can't be said enough…THINGS DO NOT NEED TO MATCH! Play off colors in your ensemble. For example, the Hello Kitty earrings can be used to incorporate almost every piece in this look. The yellow nose & yellow shirt is a given. The pinkish-brown tint of the bow draws the blazer, bow tie, bag, boots, and even the trimming of the bowling shoes into the mix. The pattern on the bow ties goes nicely with the tortoise print of the glasses and all the pieces incorporating black speak for themselves. Buttons/badges like the one shown are fun and make for great conversation pieces. Pin it to your clothes, bookbag, purse, where ever! Try it!