With the New Year comes a great deal of things–a chance to start over fresh, the annual vow to lose weight and most importantly a new year filled with showstopping fashion. No matter where you live, New Year's Eve is bound to be a joyous occasion and it's your job to celebrate it in style! But the one thing you don't want to do is  break the bank to do it–after all, we are in a recession!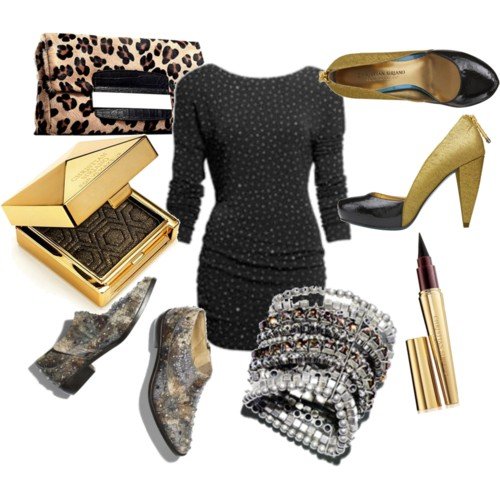 "Leopard Print Jimmy Choo for H&M Purse, $129; Christian Siriano Gold & Black Pumps, $35 www.payless.com; Chrisitian Siriano Eyeshadow, $12 www.victoriasecret.com; Christian Siriano Eyeliner, $12 www.victoriasecret.com; all remaining Jimmy Choo for H&M items (black dress, bracelets, Derbie shoes) can be found on www.hm.com soon."
Two of the world's top designers have heard the pleas of the fashion forward, but budget conscious shopper. Both Jimmy Choo and Chrisitian Siriano (Season 4 winner of Project Runway) have released lines to affordable retail stores. Christian's shoe line will be available through Payless' webite and Jimmy Choo's line (to include clothing and accessories) will be sold at H&M stores nationwide. Most of the footwear will range from $99 to $129 for boots, though there are over-the knee boots priced at $299. Shoppers can also find ballet flats for $59.95. Handbags will be priced from $59.95 to $299. Christian has also released a line of cosmetics through Victoria Secret as well. So ladies, here's your chance to be fly and financial savvy all at the same time! What more could a girl ask for?