You've probably noticed that I've been neglecting my blog…again. I was moving into my new place this past week, so you know how that goes. After FINALLY getting Time Warner to get here and install my internet and cable, I'm back. (Remind me later to tell you the story of how I had to act completely "ethnic" to get some decent customer service. Grrrr!)
Anyways…I did manage to have a little fun in the midst of all the business. I took several trips to IKEA and a trip to Michael's, which in my world is like a trip to Disney World and better than Christmas day!
See my projects!
EARRING HOLDER:
I've always had an earring holder for my hanging earrings that I made from an unused piece of my puppy's cage back when I had one.

But my poor little studs and buttons were just in this sad little jar that I had to dig through any time I wanted find anything. I've been wanting to make something to put them on, but honestly just never had the time. But like I said, with no cable and internet I had a little extra time on my hands.
I went to IKEA and bought 2 picture frames for .99 each.
*I'm saving the plastic insert for perhaps a later project.
Next, I used wire mesh that I bought from Michael's, cut it into a square the size of the frame and hot glued it to one side. (It doesn't really matter which side.)
1. Wire Mesh 2. Scissors 3. Hot Glue Gun 4. Hot Glue Sticks
Final Product!
Left: Back view; Right: Front view
***BONUS:
I also made this personalized item (not sure what to call it…lol) to hang over my bed.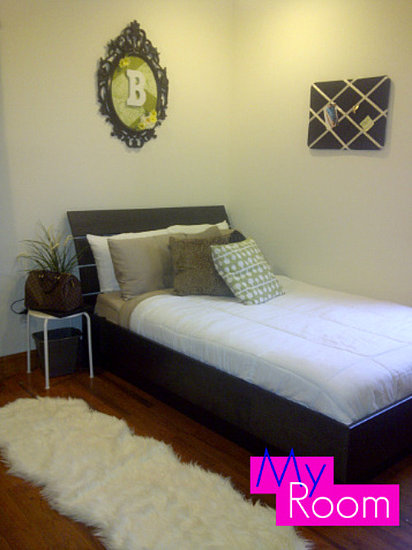 My room's not complete…but it's getting there. FYI: I made the message board too. :)
Also, made this one for my roommate. It's magnetic!
I'm actually thinking of making these available to other people…for a fee of course. :) What do you guys think??