Anybody who knows me knows how ridiculously SICK I think Amber Rose's sense of style is. It's a not-so-safe combination of sexy and edgy. With a body like the one A. Rose is rockin' it would be relatively easy for nearly everything she wears to be a bit…much. Dawning her ensembles with edgier, almost rocker, pieces does a great job of toning down the sex. You'd be surprised what a bomb pair of shades or stunning leather gloves can do. I mean if you think about it Amber Rose isn't really doing anything we haven't seen done before, she just manages to do it BETTER than we've seen done.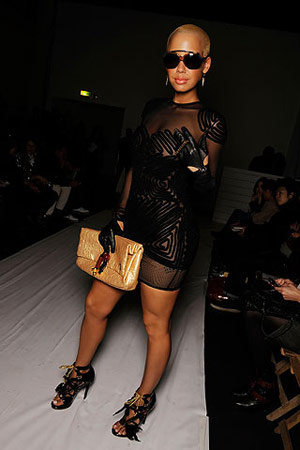 "Alexander Wang Net Embossed Dress, $995; Louis Vuitton Spicy Sandals, $1,300; Louis Vuitton African Queen Clutch, $1,530 "
With a modeling contract with Ford Models, a platinum selling rapper for a boyfriend, and a visionary styling team, you too can be as fly as Amber Rose…maybe! Lol. But in the meantime, I'll show you how to accomplish the same look (with some variation…nobody likes a clone) for a much cheaper price. The dress A. Rose is wearing is from Alexander Wang's Spring 2009 collection. It's completely mesh with strategically placed geometric shaped cords. Be careful ladies, this design can be very unforgiving on the body!!! Her shoes are Louis Vuitton, also from the Spring 2009 collection. Notice the way the shoes tie up plays of the geometric shapes in the dress. ;) Now here's where it gets fun! The choice in the color of her accessories is a brilliant play off her skin tone and hair color. So if this color palette doesn't work for you, don't be afraid to try something else. But stay away from matchy matchy pieces. Your clothes should go together, not match each other!!!! Simple accessories, a pair of black tortoise framed aviators and leather gloves make for a showstopping get up. Well done Ms. Rose!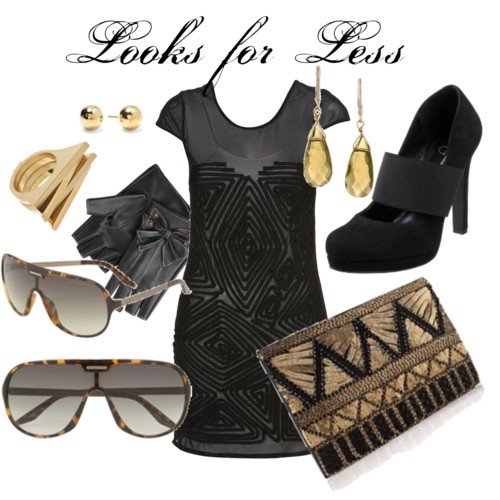 "Mesh Cord Tunic by The Top Shop, $74; Delanie Platform Mary Jane by Jessica Simpson, $89; Spirit Clutch, $90; Age of Industry Ring, $15; Logo Ball Stud Earrings by Marc by Marc Jacobs, $38; Vintage Inspired Aviators by Armani Exchange, $75; Jana's Smokey Brown Teardrop Earrings, $22; Leather Fingerless Bow Gloves by Arden B., $28 "
Now for those of us without designer connects and Black Cards with no limits, here's how to get your own version of the Amber Rose swag and still be able to say…EAT! Lol. None of the items used to create this look costs more than $100. The dress I chose is a short sleeved version of Wang's masterpiece, paired with fingerless leather gloves that you can find at Arden B. I chose to go with a simpler shoe…mainly because there is no substitute for LV…PERIOD! But because the shoe is simple, you can afford to make more of a statement with the handbag. The clutch is from The French Connection. Notice how the geometric shapes on the clutch go with the embossing on the dress. Again, the accessories are simple because the dress and bag make a statement all on their own. I even offered the option of studs instead of the teardrops, which can be worn with a unique piece of jewelry like the ring shown, if that's more of your speed. The sunglasses are aviators from Armani Exchange. The tortoise print frames help bring it all together. And remember…the darker the tint on your shades, the flyer you look. Don't ask me why, you just do! Lol.