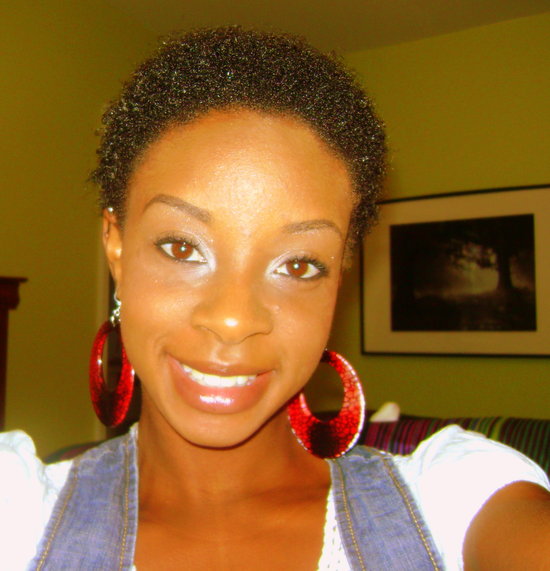 Today is the 3 month anniversary of my BC! It's been 3 months and I'm loving every minute of it. I love being able to wash my hair, throw some conditioner or hair mayo in it and go! I love running into other "naturals" and feeling a bond without ever speaking a word. I love being asked, "What's your regimen?" (*see below). What can I say…I'M IN LOVE!!! It has grown SO much since I cut it. It's hard to tell sometimes, because my curl pattern is really tight, but it has. It's so much healthier than it's ever been. My edges have grown in thicker & any areas that had breakage before are non-existent. I could really get a good look @ the progress when I pressed it last week (click here to see pics). My hair was shiny, thick & gorgeous (if I do say so myself…lol)…even my dandruff has gone away!
*My Regimen:
1) Wet it in the shower.
2a) Use Africa's Best Organic Hair Mayo…leave in. Let dry.
2b) On days when I'm in a rush, I use Mango & Lime Leave-In Conditioner and African Pride Hot Oil. It takes less time to dry.
3) I comb out the curls about every week and a half, otherwise they get really tangled.
4) I try to stay away from traditional shampoo. I've opted for baking soda rinses instead. Although I do use shampoo from time to time.
And that's pretty much it. I'm still looking for a product that allows me to achieve the "wet look" even once it's dry. Any suggestions?